Energy Efficiency Loans
The Energy Efficiency Loan program was started to help co-op members upgrade older homes that need to be brought up to a better state of efficiency and will loan you up to $20,000 at zero interest to make these types of improvements: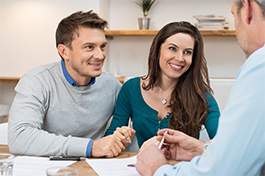 Increase attic insulation to at least R-38
Replace single pane windows with dual pane with a U-value of at least .58
Replace old wood exterior doors with insulated Steel or Fiberglass doors
Plug up all exterior penetrations to help keep outside air out.
Help pay for an exterior siding upgrade that adds at least an R-5 insulation
If your current HVAC system is over 20 years old and you invest in $2,000 of improvements to the physical structure you can also upgrade your heating and cooling (evaporative coolers not included) to a more efficient model in the same 0% loan. Upgrade to a High SEER Heat Pump and you can qualify for a Rebate from SSVEC.
---
Loans Available
Are you ready to replace that tired, old heating and cooling unit that runs up your bill? Are you looking into measures that will make your home more energy efficient? SSVEC's Member Loan Program was designed to assist SSVEC Members in making their homes more energy efficient, comfortable, and affordable. The following loans are available:
0% – Building envelope improvements
7% – Loans are for Electric Heat Pumps
$2,000 – Minimum loan amount
$10,000 – Maximum loan amount for the purchase and installation of 14 SEER or higher heat pump.
---
Terms
Heat Pump Loans – Members can make payments for as little as 12 months or as long as 84 months. SSVEC will never charge prepayment penalties for early payoff of our loans. There is a $2000 minimum loan amount.Energy Efficiency Upgrade Loans Terms are 36 months for loans from $2,000 to $10,000 and 72 months for loans $10,001 to $20,000.
---
For further information on our Energy Efficiency Loan program, contact:
Member Services
loans@ssvec.com
or
(520) 515-3471