Electrical Safety
Sulphur Springs Valley Electric Cooperative (SSVEC) has a strong commitment to your safety. Highlighting our strong commitment to safe use of electricity by our members, employees and the public is our partnership with SafeElectricity.org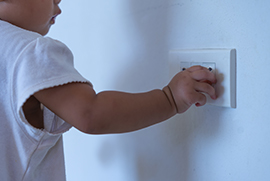 The award-winning Safe Electricity program is a collaborative effort supported by hundreds of utilities like SSVEC working with university educators and educational organizations.
The vast majority of electrical accidents can be prevented if people understand the dangers and steps they can take to be safe around electricity. SafeElectricity.org is full of useful resources like video stories of real people affected by electrical accidents, articles on a variety of topics, online games and activities for children, teacher materials and lesson plans, information for homeowners, contractors and businesses and much more.
SSVEC invites you to heed the "Teach Learn Care TLC" message to "Teach what you know. Learn what you need to, and Care enough to share it with those you love."
---
Your Organization of Utilities To Help (Y.O.U.T.H.)
Parents often worry about the well-being and safety of their children whenever they're out of sight. After all, it's a big world "out there." But now Sulphur Springs Valley Electric Cooperative and other local utilities can offer some peace of mind for parents. The Cochise County Sheriff's Department has developed Your Organization of Utilities To Help (Y.O.U.T.H.). SSVEC has agreed to participate. To learn more, click on the link under "Quick Docs".