New Service Connects
To receive initial service, a new billing account must be established. The member shall contact the Customer Service Representative in their area, pay a $5.00 refundable membership fee and any required deposit; agree to pay charges for electricity used at the applicable rates or the monthly minimum; and agree to comply with the Articles of Incorporation, the Cooperative's Bylaws, rate schedules, and Rules and Regulations as adopted by SSVEC Board of Directors and approved by the Arizona Corporate Commission (ACC).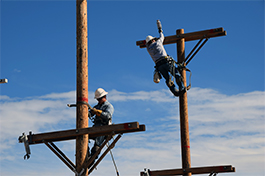 Membership becomes effective at the time service is connected in the member's name. An application for service is required for each separate location or meter; however, one membership covers them all. A $50.00 service charge plus tax is required for all service connections.
Service Responsibilities
SSVEC is responsible for the safe distribution of electricity to the meter at your home. This includes maintaining all equipment, including meters, which we install on your premises in order to provide services.
As a customer, you are responsible for maintaining the safe operating condition of all equipment on your side of the meter. SSVEC will deny service if your facilities are not in compliance with all construction and safety standards and local codes.
You must provide reasonable access to the meter and safeguard SSVEC property to prevent loss or damage, other than ordinary wear. If your meter does become damaged, notify us immediately.
Office Locations & Contacts
For Customer Service Representative mailing address, phone numbers & office hours, click here.