Rebate Programs
Thank you for your interest in SSVEC's Rebate Incentive Program for Energy Efficient Measures. We are currently offering several rebates to our members.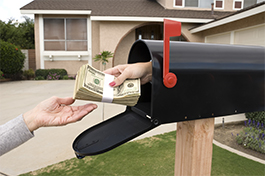 I know it sounds crazy! But it's true and there are no strings attached. Sulphur Springs Valley Electric Cooperative is offering its members $500.00 for installing equipment that will cost less for the member to operate while offering them added comfort. You see, at SSVEC, we are concerned with our environment and we value our members. We don't mind if you buy less of our product.
Hot Water Heater Rebate
To reward members who conserve our valuable resources and energy, SSVEC offers a $100 rebate for the purchase and installation of an energy efficient electric water heater.
For further information on this or any of our Energy Management programs, contact the Member Services Department at rebates@ssvec.com or (520) 515-3471
Note: Tankless water heaters do not qualify for any energy efficiency incentives.
Heat Pump Rebate
We are currently offering a $500.00 rebate to our members for the installation of:
Package heat pump systems must have a 15 SEER minimum
Split system heat pumps must have a 16 SEER minimum
Ductless heat pumps must be 2 ton or larger to qualify and be 16 SEER minimum
We also have a $200.00 rebate for a Dual Fuel Installation (dual-fuel means an electric heat pump with a 16 SEER minimum and gas furnace with 80% efficiency for back-up heating.). The outside thermister must be set at 30 degrees with the installing contractor's signature verifying the setting.
Requesting the rebate is easy. Simply fill out the form on the back of this letter, attach a copy of the paid invoice, and email to rebates@ssvec.com or drop it off at your local SSVEC office*. (SSVEC must receive the rebate form and invoice within 60 days of installation.)
So, if you are considering the purchase of a new heating/cooling system, come in and talk to one of our Energy Management Specialists. They have information to help you understand the differences between the different types of heat pumps and how they operate. They can also assist you in determining the energy efficient needs for your home by doing a free home energy audit.
Need a way to pay for the new heat pump? SSVEC has a Member Loan Program for qualifying members for the purchase and installation of a new 15 SEER or higher electric heat pump at a remarkable 7% interest rate! Just ask. We are here to help you.
If you have any questions, please contact the SSVEC Member Services Department at rebates@ssvec.com or (520) 515-3471 in the Sierra Vista area. You may also contact your local office and ask to be transferred to a Residential Energy Management Specialist.